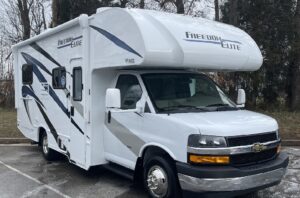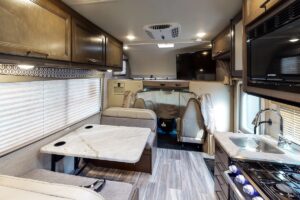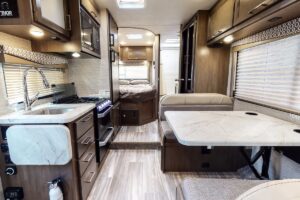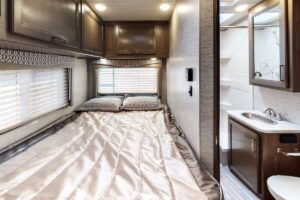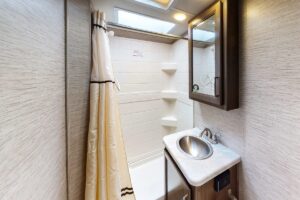 Class-C Motorhome | Sleeps 4-5 | 3 Beds
The small size of this motorhome makes it  perfect for the adventurous couple or small family. It is easy to operate with no slides and has all the modern amenities one would want when making a journey full of memories. This is the easiest size to park in small campgrounds and maneuver around while site seeing.  We have multiple coaches of this size available to rent. You'll be able to select the exact Voyager for you on the booking page. 
Specifics:
Class C
V8 Gas Motor
25 feet long
12 feet high
30 amp
Sleeping Accommodations:
Sleeps 4-5
Master Bedroom Queen
Dinette Full Sleeper
Over Cab Full Loft
Features:
Air Conditioning
Furnace
Towing Capacity of 6,000lbs
Back Up Camera
Tow Hitch (see add-ons)
Exterior Storage
Stove Top
Microwave/Oven
Refrigerator/Freezer
4000 Watt Generator
In Dash Touch Screen
Interior Sound System
TV
HDMI Video Splitter
4 Seat Belts
50 Gallon Fresh Water Tank
30 Gallon Black & Grey Tanks
55 Gallon Fuel Tank
Depending on your destination(s) and camping experience level, you may want a few more conveniences from home.
Save time loading up the RV for your trip with our Camping Essentials package. We'll provide you with basic kitchen utensils, pots and pans, camping chairs, table top grill and a few family friendly games. See the full list detailed below.
If you need to travel light, add on our Personal Linen Kit. We can provide you with a brand new sleeping bag (72in x 30in) and pillow for each person in your group. You may also keep the sleeping bag at the end of your trip or we will donate it to charity.
A warm campfire is what camping is all about for some, but if you're traveling during fire season, many locations may institute fire bans. That means no wood burning campfires, however, Gas Fire Pits are allowed and can be added on to your reservation. 
Many of our campers love to bike through the great outdoors while on their journey. If that's you, you may want to add on our Bike Rack package. Our bike rack holds up to four bikes (depending on size) and will be hooked on to the RV at time of pick up.  
If you plan to explore your destination, you might want to have a vehicle to get around the area. For those that would like to bring an additional vehicle (car, boat, ATV, etc), we allow towing. We also have a tow dolly that can be rented pending availability.
$250 for hitch + $300 for Tow Dolly
Working from the road? We offer Wi-Fi for those road warriors out there who might need to get a few hours in at work while in motion. It's not for streaming but it'll do the job if you need to send a few emails when traveling between cell towers.
Tool Kit
Outdoor Rug
Power Extension Cord
Power Adaptor
Electric Cable
Sewer Hose with 90 Degree Water Plumbing Elbow
Fresh Water Hose or Heated Water Hose (Winter)
Leveling Pads
K-Cup Coffee Maker
Toaster
Microwave Turntable
Microwave Grilling Tray
Dongle
HDMI Cable
Remotes
Uno Cards
2 Decks of Playing Cards
Rummikub
Dominoes
Broom/Dustpan
Swiffer Mop
Kitchen Trashcan

Trash Bags
Paper Towels (1 Roll)
RV Toilet Paper (4 Rolls)
Dish Soap
Dish Brush
Swiffer Wet Pads
Multipurpose Cleaner
Bathroom Cleaner
Windex
Hand Soap
Bathroom Chemicals
4 Camping Chairs
Smore's Sticks
Cornhole Set
Tabletop Grill
Lighter
Small set of Plastic Cutlery
Small Package of Paper Plates
Small Package of Plastic Cups
2 Hot Pads
Scrubbing Brush
2  Pans
2  Pots
3 Mixing Bowls
Cutting Board
Cookie Pan
3 Pyrex Dishes with Lids
4 Cutting Knives
8 Spoons & 8 Forks
4 Butter Knives
Scissors
Cooking Utensil Set:

Can Opener
Potato Peeler
Measuring spoons
Measuring Cups
Spatula
Rubber Spatula
Mixing Spoon
Tongs
Wisk
Corkscrew
What Our Guests Are Saying about the Voyager...
Incredible experience, flexible company and an all-around joy to work with Trailhead RV Rentals. Our family of four rented a class-C RV for a trip to Moab, Utah in order to explore Arches National Park. The RV was ideal, from being able to relax in a comfortable and portable home with incredible views just outside your window, to enjoying a cold beverage straight from the ample-sized fridge and cooking up a full-course meal on a easy-to-use gas stove and oven. The propane-based heating / cooking system worked great. We slept comfortably and were glad to have the RV when temperatures dropped to freezing unexpectedly on our last night of our trip. Following Trailhead RV Rental's easy-to-use operating manual and initial in-person instructions, we were able to keep everything nice and cozy. Thank you!!! I highly recommend them for your next rental."
Everything about this trip, the camper itself, and all of those people we encountered along the way (definitely including staff for Trailhead RV !!) were fantastic!! The walk thru before and after was very detailed and knowing that we could call at (nearly) anytime if we had questions was a huge relief. The beds in campers could always be a little more comfortable but that was to be expected! Thank you!"